History
Family tree
Coat of arms
Double surname
More information
Interesting links

Mail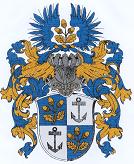 Coat of arms
The coat of arms of the Tjeenk Willink family consists of four parts. Part I and IV are blue with a golden oak branch. On the branch are two leaves and three acorns, all produced in gold. This part is descended from Willink. Parts II and III of the heraldic are silver with a golden anchor. This part is descended from Tjeenk.
The helmet and crest are the oak branch of the shield in a blue vlucht. The mantling is blue doubled or. This coat armour is beared since the nineteenth century.
Download the coat of arms (3.93 MB) as a bitmap.